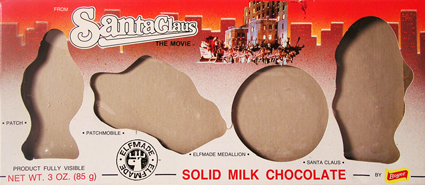 I've hung onto this ratty, sad box since 1985. It looked bad then, it looks bad now. But at last, like a fine wine, its time has come. This movie was a Christmas turkey, and it seems as though it's never mentioned on any Christmas "must see" lists.

This movie actually signaled the demise of Dudley Moore's meteoric career when he made the fateful decision not to star in "Splash" and instead appear as Patch the Elf in "Santa Claus: The Movie".

Still, there are bound to be those who were born at just the right time to be young enough when they saw this movie to really have no taste in cinema and remember it fondly. For those of you, enjoy!

And as a CWM Christmas exclusive, you can click here for your very own Christmas cutout of that immortal star defining role by Dudley Moore -- Patch the Elf!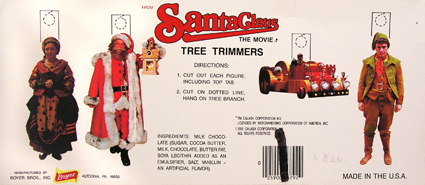 For all you "Santa Claus: The Movie" hardcores, click here to see a larger version of the front

And if you haven't seen enough, click here to see a larger version of the back