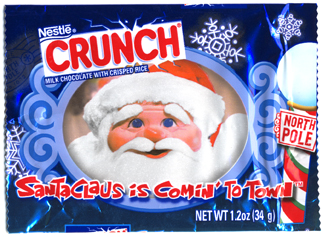 Funny, it's taken thirty some odd years for those folks in marketing to realize they could license out those beloved Rank & Bass characters that the yuppies grew up with. It would never take this long in this day and age to start cross-marketing any animated characters.

In some ways, it's nice to see the classic Rudolph, Santa, Herme and their friends, but at same time some of the innocence has been lost with the oversaturation of the new products. In this case, it's kind of a cute wrapper, although Santa looks a little medicated.

Again, I'm not really sure why its tough to get a healthy, happy Santa placed on a wrapper, but apparently the challenge is greater than it appears. But at least it's nice to see some new things happening with candy wrappers, and this was a tasty candy bar in the Nestle's Crunch tradition.