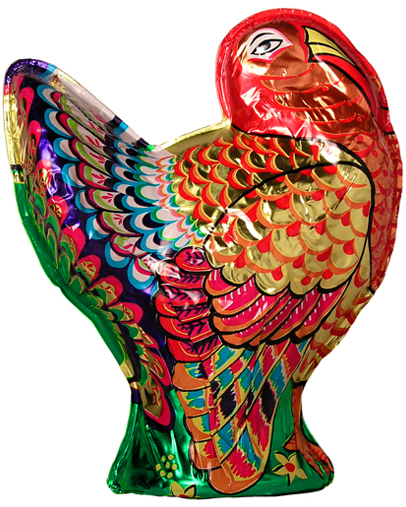 Welcome to Thanksgiving, Candy Wrapper-Style. This holiday is one of our nation's most beloved, but for some reason this is also a holiday that has been short-changed by the candy-making world. In the universe of all things that can and could be "Thanksgiving", it all comes down to... turkeys. Big turkeys, small turkeys, flat turkeys, clone turkeys... the realm of the imagination is a cramped, dark space when it comes to this celebration that is ironically associated with good food. Maybe it's simply because the mighty pie, cornerstone of the Thanksgiving feast, consumes so much of our attention that few are left with appetite to spare for a hunk of chocolate or two

That being said, I think we've found some creative solutions to the dearth of candy truly created for Thanksgiving. I do think, too, that we will see this change over the years, so this gallery is clay from which a greater gallery will grow over the years.

Without further ado, we kick off this gallery with "The Big Bird", the biggest, noblest chocolate turkey we could find, courtesy of Josh Early in Pennsylvania. This turkey is 6 inches tall, so it's not exactly the Paul Bunyan of chocolate birds, but when it comes to the relatively dull world of Thanksgiving candy, you take what you can get. Come tour this gallery to learn about the other "wonders" of the Thanksgiving candy world, where the candy is (mostly) for the birds.