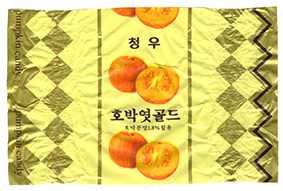 If you're in a rush to leave the Thanksgiving get-together, why not skip the pumpkin pie and have a piece of pumpkin candy instead? I'm chewing on one of these as I write, and I find that they're a nice, mildly-flavored toffee.
This candy came in a large cellophane bag. I can't read much of it, but the ingredients are all-natural, and I like their slogan at the top of the bag: Dream and Love.
Apparently the Americans didn't have the vision or enough interest to create a pumpkin candy, but the South Koreans did. My sister-in-law, SeungAh, thoughtfully tracked this down at a Korean market for the CWM, just in time for the holiday. Thank you, SeungAh!