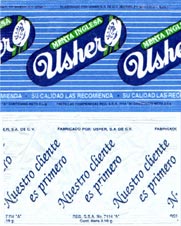 Some friends I met on the Internet informed me that my Mexican wrapper collection was sadly lacking, one of them sent me this wrapper and the Pal gum.
These are apparently commonly used as breath mints in almost big non-franchise restaurants... including a Mexican sushi restaurant.
One of them also says: "The name means 'Usher English Mint(s).' It says, 'Their quality recommends them,' and the writing on the back says 'The client is first,' which basically means 'The customer's always right.' That space is sometimes occupied by advertisements for the restaurant itself, kinda like matchbooks."