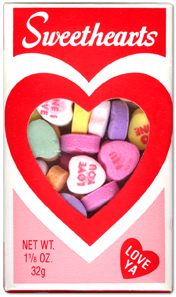 --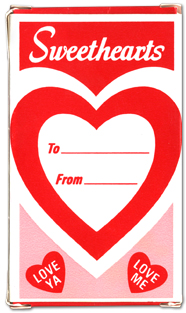 Conversation hearts are, of course, the cornerstone of the Valentine's Day candy experience. They stem back all the way to 1866, when a member of NECCO's founding families invented "Conversation Candies". The nice people at NECCO shared with me a variety of fun facts and history of the candy, some of which follow....

Sweethearts, as we know them, came to be in the early 1900s. They were cut into all kinds of shapes, including postcards, baseballs or horseshoes and embossed with curlicues. These shapes allowed for much longer, extremely quaint sayings, such as "Please send a lock of your hair by return mail," or "How long shall I have to wait? Pray be considerate."

Today's messages are kept short and sweet: "Be Mine", "My Man", "Kiss Me", etc. According to NECCO, over one-hundred sayings are printed on them each year, including eight-to-ten new sayings every year. They began to go high-tech in 1995 when they added "Fax Me" to the list. Last year they went for an animal theme with sayings such as "My Pet", "Bear Hug", "Top Dog", "URA Tiger", "Go Fish", "Love Bird", and "Purr Fect". The 2008 lineup included weather and nature-themed messages: "Melt My Heart", "In A Fog", "Chill Out", "Cloud Nine", "Heat Wave", "Wild Life", and so on.

NECCO also informs us that if you placed all 250 billion Sweethearts that have been manufactured since the turn of the Twentieth Century end to end, it would reach one million miles... enough to go to the moon and back twice. That's a whole lotta love!