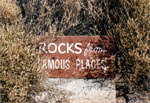 From that point on, these two elements were my basic criteria for adding items to the collection. I started to semi-jokingly brag about how I would someday transform my collection into a roadside attraction somewhere in the god-forsaken desert and draw fame as a kooky old woman. I drew my inspiration from places like the little cafe and mini-mart in the So. Cal desert that featured "rocks from famous places."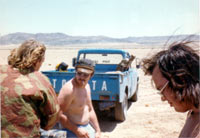 Soon, friends started chipping in items - for example, if I recall, my friend Jim Atkins (pictured here, far right) bought the Mr. T gum for me when he ran into a La Puente mini-mart. This is one reason why I value my friends - they have a warped sense of humor.


Perhaps a year down the line I decided I should collect some of the popular wrappers just for posterity, particularly because I saw candy times were a'changin', with prices going up, candy getting smaller, old classics vanishing off the shelves, and standards like the 3 Musketeers bar changing from giving you three little candy bars to one. (Although I neve

r imagined it would eventually be reduced to a flat piece of taffy.) This is how I came to have my classic wrappers from the 70s. But collecting with a purely archival purpose has never interested me, so you get pot luck with that aspect of my collection.

Over the decades, I gravitated toward a more "sophisticated" crowd and lost touch with much of the old crowd until fairly recently, thanks to the Internet. I continued to collect wrappers and file them away in bags and boxes. I finally decided about a year ago to inspect what I had gathered to see if they had "matured" enough to make them worth displaying. Sure enough, they had.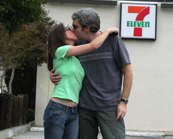 So instead of waiting until I'm a kooky old woman living in the desert, I've launched the CWM out here in cyberspace, which is an even bigger god-forsaken desert than I had ever envisioned in my youth. In fact, this Web site even brought me together with Joe Lacey, the love of my life, who lived so far away in PA (and is now happily united with me in CA). He came in search of Nice Mice, and discovered me at the same time!

I hope you enjoy the CWM. If you're hot and tired and need a nonsense refreshment break, come check it out.

P.S. I extend an apology to all my friends portrayed here in the most unflattering context that I could find!

Click here to go back