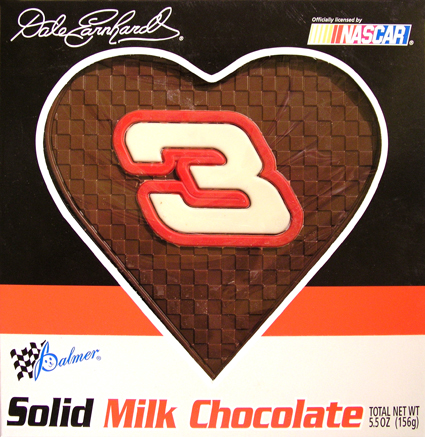 I can understand how Elvis became a Valentine's Day institution, but how did Dale Earnhardt and Dale Jr. ascend the throne to join him? Dale Sr., of course, touched our hearts when he died in a crash at the 2001 Daytona 500, but is he romantic? He was divorced twice, and a nickname like "The Intimidator" doesn't exactly conjure up images of a touchy-feely kind of guy.

But mourn we do, and the legacy of this dearly departed nice guy lives on in chocolate. This enormous chocolate heart might be the best of the Dale Sr. memorial candies. Dale definitely delivers. Click here to see the huge piece of chocolate you get, and click here to see the Dale Earnhardt trivia crossword puzzle on the back... no corners cut on this Valentine's gift!

As you'll see in this gallery, Dale Jr. is continuing to carry on the family tradition with endorsed sweets of his own.